S.F. Northstars
Mojave Desert Camp Site & Information
Printable PDF version of this document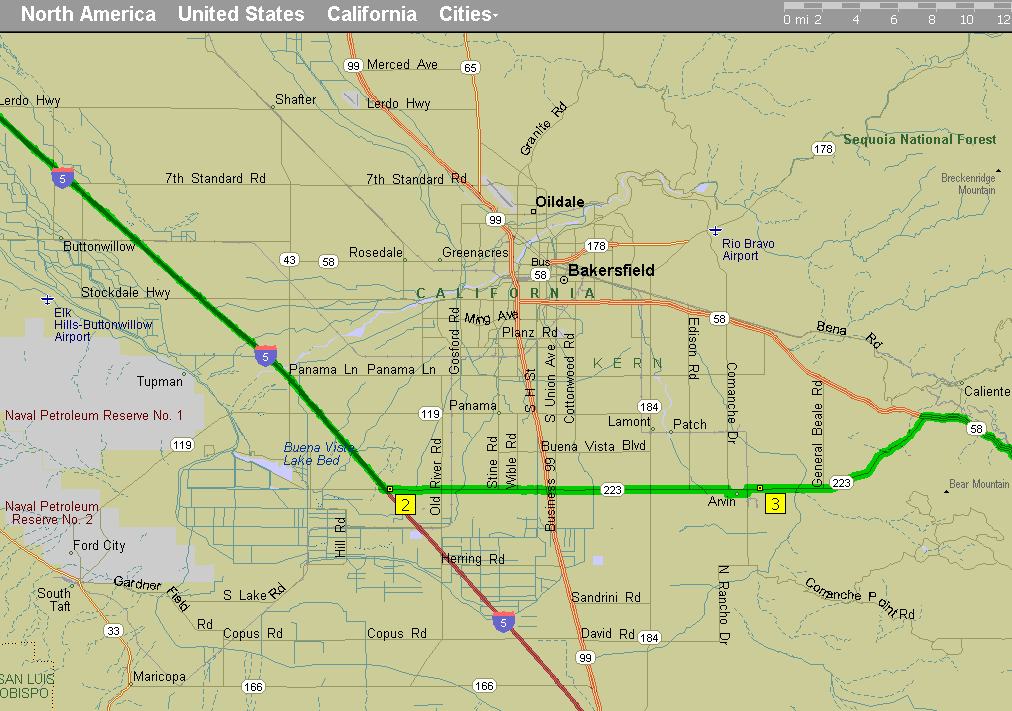 Directions to the Camp Sites we prefer to use.
Take Interstate-5 to Hwy-223 & follow east thru Arvin and up to Hwy-58 EAST.
After dropping down from the Tehachapi Summit (still on Hwy-58), take the 1st exit to
California City/Mojave & follow Randsburg Cutoff Rd. across Hwy-14
(now California City Blvd.) to California City.
Continue on California City Blvd. east, to the 1st stop sign past the pedestrian bridge & golf courses.
Turn left on Randsburg-Mojave Rd. & go 1.3 miles.
Follow the paved road as it bears right and becomes 20 Mule Team Parkway. Go ~5.0 miles.
You will pass a prison on your right & a large water tank on your left.
Site specific directions are further down...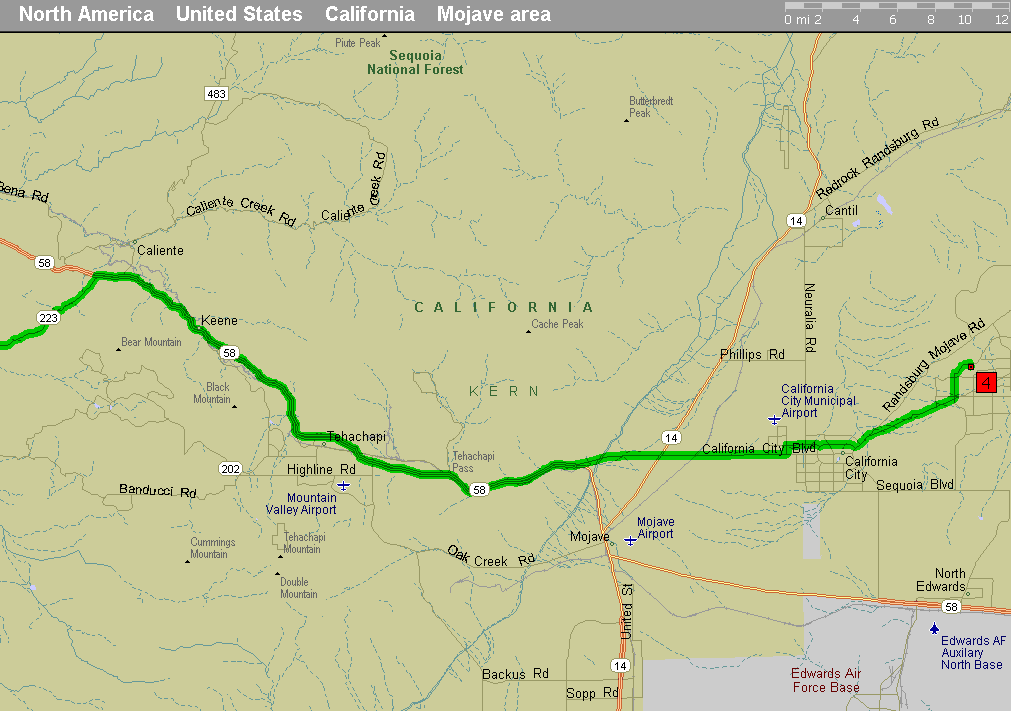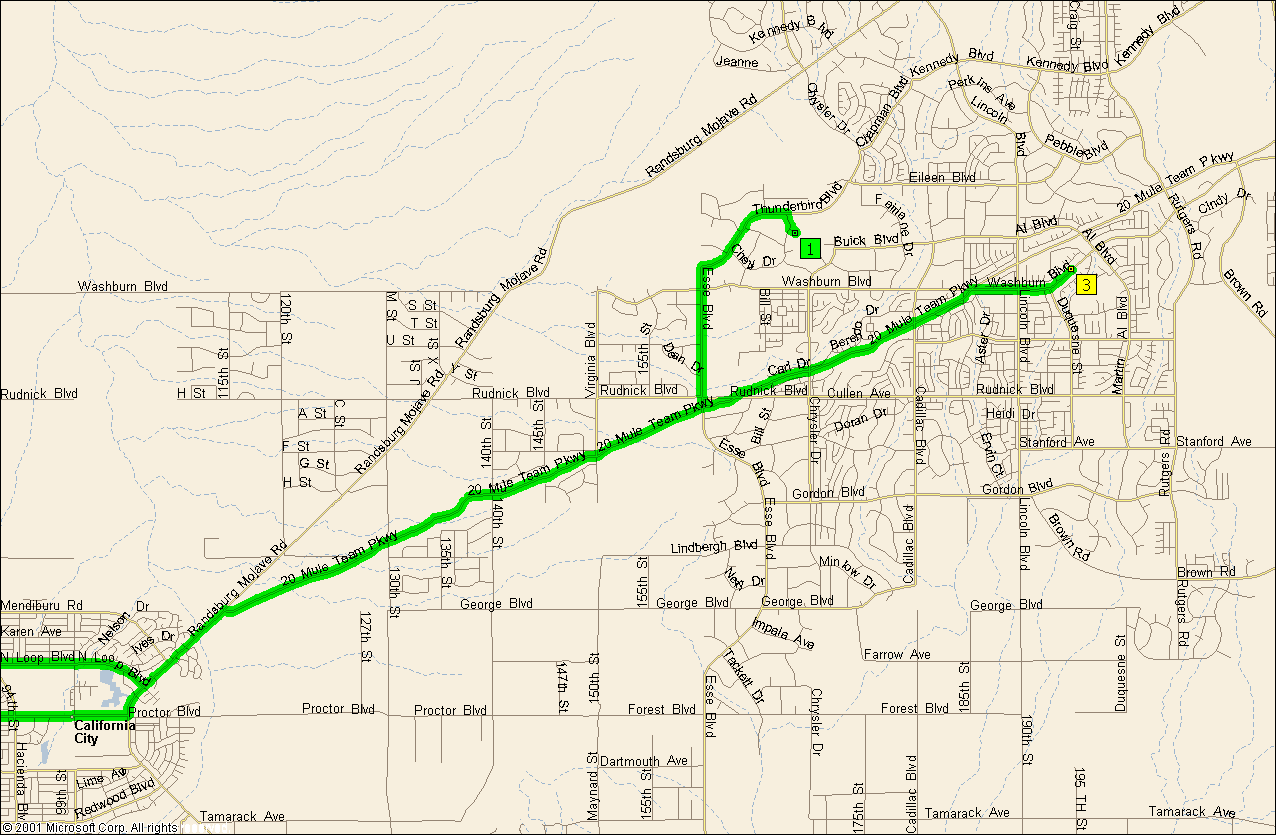 Site # 1 by the small hills, & Site # 3 on Washburn in front of the hill with the water tank
To Site # 1 (NOTE: we rarely use this too-popular site anymore.)
Turn left on Esse Blvd. (1st of the gravel roads past the water tank) & go 1.3 miles.
Turn right & follow this road ~1.0 miles (thru a left curve, a straight, a right curve, and into the next straight) .
Turn right on NEXT dirt road & camp is at the end of this "cul-de-sac".
To Site # 3 (Our normal camping location now)
(For a GoogleMap with GPS coordinates, <http://maps.google.com/maps?q=35.1886,-117.7805> CLICK HERE!)
Continue on Twenty-Mule Team Parkway past Esse, Chrysler, & Cadillac.
Turn RIGHT on Washburn Blvd (street sign is on LEFT side of 20-Mule Team) &
it will point you straight towards the hill with the water tank(see picture below).
Follow the curve to the left & we're RIGHT HERE in front of the hill with the water tank.
(OR ... Turn RIGHT on AL Blvd., take the first RIGHT on Washburn.)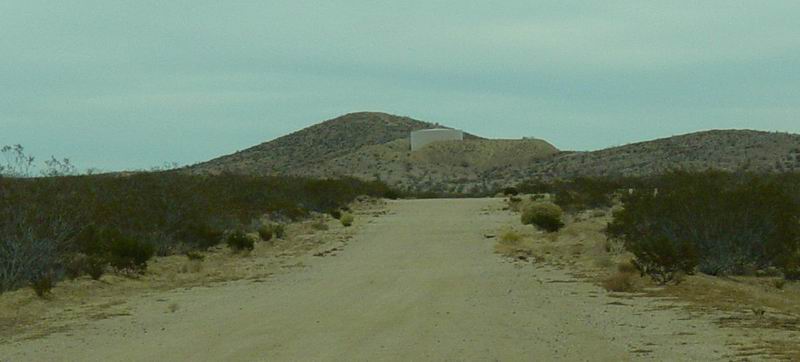 View of Site # 3's Hill with Water Tank from Washburn Blvd. turn off


View of Site # 3's Hill with Water Tank from Al Blvd. turn off
Camping Information : This is primitive camping. There are NO water or restroom facilities where we camp.* You need to bring EVERYTHING with you that you require, and take it with you when you leave. It can be VERY windy & cold in the desert at night. Coleman tents from WalMart have been known to self-destruct with the occupants still inside! Good 3-4 season tents, properly guyed down will work, but can be very noisy in the wind. There are a few scrub bushes near by to dig a hole & set-up a potty behind. The experienced desert riders are in trailers & vans, or have generous friends who do. Some folks share meals & food, but that's usually pre-arranged BEFORE the trip. Here's the list of things you should bring;
Shelter - good 3-4 season tent with proper guying & earplugs, auto/truck/van, trailer, or motel room.
Drinking water & hydration system for the trail (100-oz size recommended for long day loops).
All food for meals & snacks/meals on the trail.
Cooking stuff.
Toilet stuff.
Clothing for 90-degree days, 20-degree nights, & everything in between.
"It never rains or snows in the desert!" Julio Hotstuff Sanchez. Who musta been high on ...
"Quality Libations".
Firewood, LOTS of firewood.
Large garbage bags to collect & haul your stuff away.
Dirtbike, riding gear, fuel, spare parts, & stuff.
Monkey-brains fixings for Julio
Extra gasoline for Hans' midnight pyro rituals.
More firewood.
*UPDATE: On 20-Mule Team, between Esse & Chrysler is the Borax-Bill Park, now with restrooms, showers, (food during the day)& a dumpster. This is the closest place to leave your garbage bags on the way out.
California City has a couple of grocery stores (with firewood) & gas stations, but no motels. Mojave is where you will find the closest motels (Motel 6, 661-824-4571, is 24 miles from camp), but remember your ear plugs as the trains run 24-hours-a-day.
Weather.Com 10-day Forecast for Edwards AFB (just a couple of miles south of camp)
---
© San Francisco Northstars Motorcycle Club

Last updates : January 16, 2007